The Hunterdon Harmonizers presented an original musical adventure fun for kids and adults alike! Shows were at 3pm and 7pm on Saturday, December 14, 2019 at Hunterdon Central Regional High School.
IThe holiday cheer didn't end there! The show continued with a concert of holiday favorites,, featuring the brilliant new chorus Somerset Hills Harmony, the Hunterdon Central Red Devils Orchestra and, of course, the Hunterdon Harmonizers! As a finishing touch all were invited to join the performers on stage in a massive chorus for the singing of Handel's "Hallelujah Chorus" from the Messiah - with a full orchestra! Many graduates of our "Ready-Set-Sing" programs participated, and we hope to see and hear them again for the 2020 Holiday Show!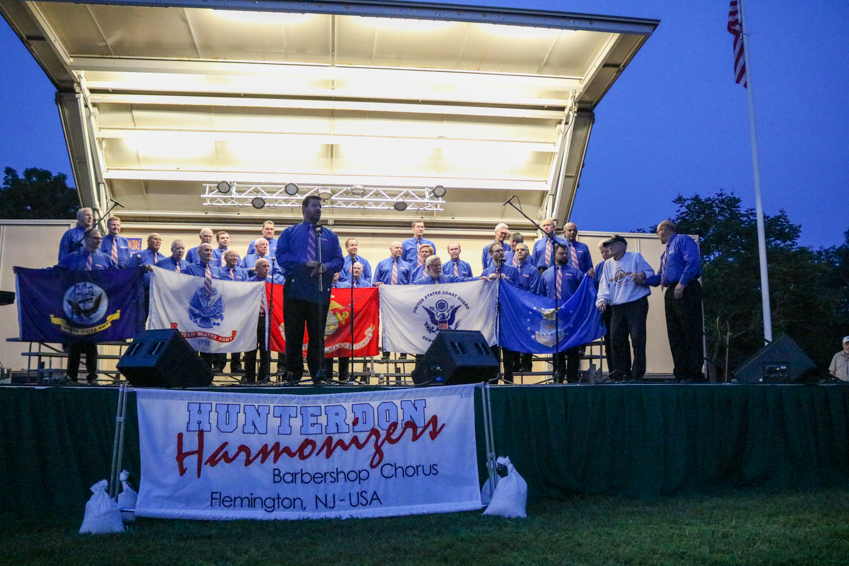 The Hunterdon Harmonizers were proud to once again be a part of "Music Under the Stars," sponsored by the Hunterdon County Division of Parks and Recreation. Our theme for 2019 was "It's a Wonderful World," and our selections included some sunny Broadway hits in our unique four-part a cappella style, a few swing numbers, some old standards, and several stirring patriotic songs. As a special treat, we featured a fantastic group of young singers, TRUE VOICE PROJECT, which is a non-profit choir for high school students and young adults, focused on creative musical collaboration. During our patriotic set, we had the honor of bringing two World War II veterans onto the stage and then capping the show with all present singing "God Bless America." Our music and our audience participation is the heart that drives our Barbershop Society Theme song "Keep the Whole World Singing." To get a taste of our excitement, just stop by 2 Stangl Road any Tuesday night at 7:45, and meet some Harmonizers… and feel the electricity! Give us a call at 908-806-NOTE.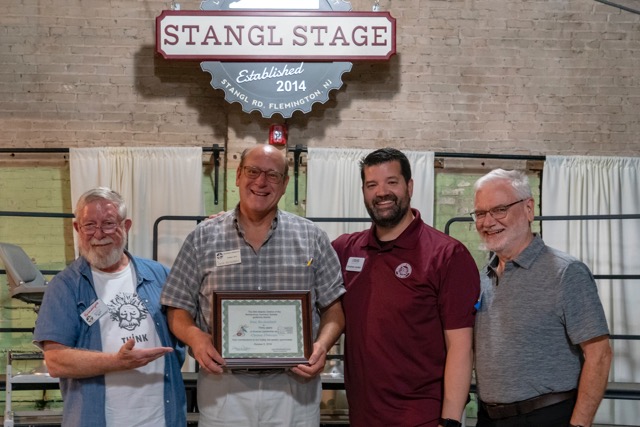 Donald Reckenbeil, the musical director of the Hunterdon Harmonizers, was recognized at the recent Mid-Atlantic District Convention in Reading, PA. for 30 years of service as a front-line director in the Barbershop Harmony Society. Twenty years of his service has been spent as the director of the Harmonizers. Don was recognized in front of the Harmonizers on Tuesday, October 10, in our rehearsal hall at Stangl Stage. In the photo (left-to-right) are Rusty Williams (President and assistant), Don Reckenbeil (director), Christian Hunter (Immediate Past President and District Representative), and Mark Bentley (assistant). The Harmonizers are currently preparing for participation in the Flemington "Music in the Schools" program on March 19 at Reading-Fleming Intermediate School. We are also getting ready for our upcoming Barbershop Society Competition and Convention, which will be held in Allentown, Pa. on April 26 & 27. This will kick off our 2019 calendar of events, which will include the Flemington and White House Memorial Day Parades, the July 4 celebration in Lebanon, and our annual "Music Under the Stars" concert on August 1 at Deer Path Park.